Dan Rather and his colleague Elliott Kirschner wrote a tribute to Dr. Anthony Fauci on his retirement. They noted that the anti-VAXX conspiracy theorists have been howling for Dr. Fauci's scalp. Surprisingly, Elon Musk joined the anti-science mob with a hostile tweet.
They write:
One of the most dedicated public servants in this nation's history is stepping down after decades of government service. That this same man is being scurrilously attacked by the world's richest man on a rapidly degenerating social media platform is a sad but instructive snapshot of our times.
Dr. Anthony Fauci has served presidents since Ronald Reagan. He has led efforts against infectious diseases ranging from HIV/AIDS to Ebola to, of course, Covid-19. His work and dedication have saved countless lives. And for much of his career, he was viewed with great respect on both sides of the political aisle.
But we all know what happened. Fauci has become a target for the anti-science, conspiracy-theory-marinated movement stoked by the former president. And today, Elon Musk sent out a tweet that epitomizes the debasement. Like a smirking bully on the schoolyard, he wrote; My pronouns are Prosecute/Fauci.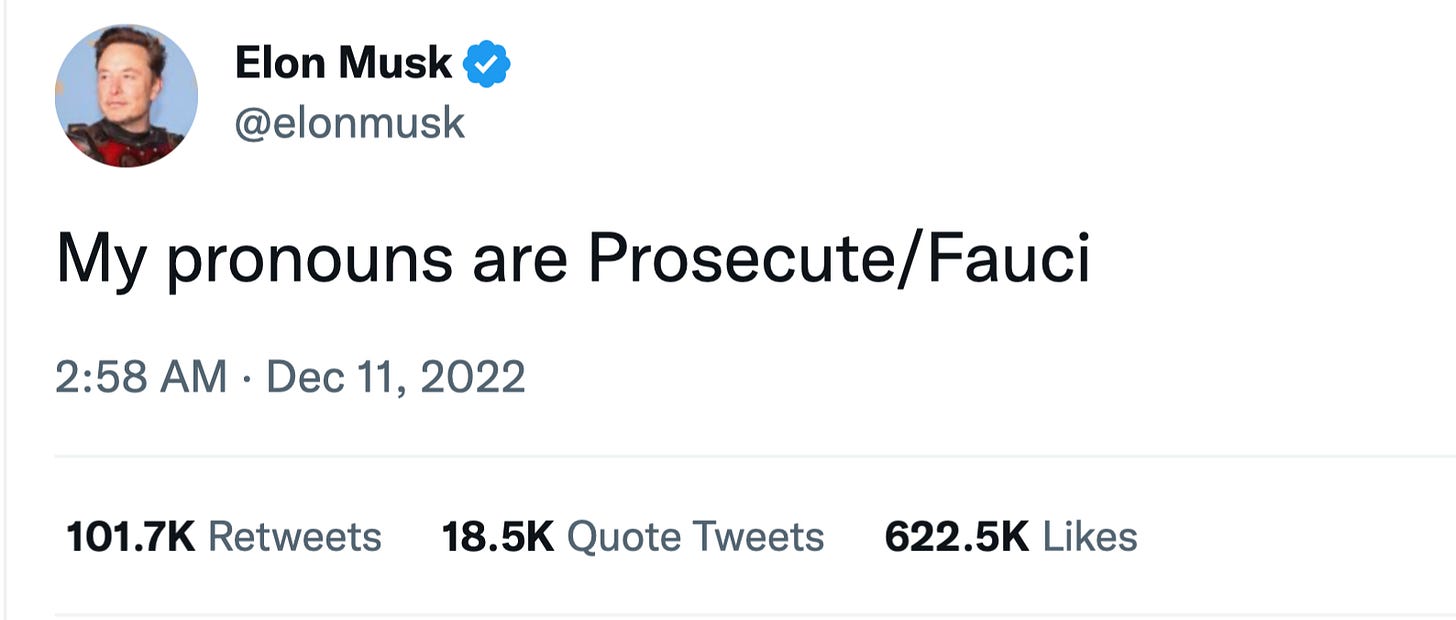 Many online were quick to point out how Musk had earlier tweeted favorably about vaccines. And they noted how he has been staggeringly wrong about the pandemic, which he said early on would just disappear. Plus, for what exactly is Fauci supposed to be prosecuted? You have to be fluent in crazy conspiracy theories to start trying to answer that question.
But even to try to debate on the merits is to have already lost.
This isn't about facts and the truth. This is about scoring political points. It is about flooding our global discourse with horse manure. It is about attacking the very notion of expertise. It is about saying everything can be true so nothing is true. It is about intimidating scientists and health officials. It is about feeding the MAGA crowd with the red meat of a sacrificial lamb.
Who is the real Elon Musk? With all his money and power, why does he pander to the MAGA crowd?