[ad_1]

A retrospective, or "look back," is a strategy that can be used by school leaders, professional learning communities (PLCs), and teachers to engage a group in a structured reflection and brainstorming session. A retrospective can happen any time during the school year (e.g., end of a semester or unit) to encourage a reflective practice, gather feedback, and make adjustments to improve a group's experience.
A retrospective strives to answer four questions:
What worked well?
What didn't work?
What lessons did we learn?
What are we struggling with, confused by, or wondering about?
The goal of a retrospective is to encourage a group or team to reflect on their work, so they can create an action plan to build on their successes and implement changes for improvement.
If you are a school leader guiding your staff through a retrospective, a coach facilitating a retrospective for a PLC, or an individual teacher using this strategy with your students, you may want to use a digital tool, like Jamboard or Padlet. A virtual platform makes it possible for participants to share their reflections in a digital space where they can see and interact with each other's ideas. If you are using a Padlet Wall, like the one pictured below, select the column feature to organize responses under each of the four questions. Once participants post their ideas to the virtual wall, they can heart or comment on each other's virtual post-its.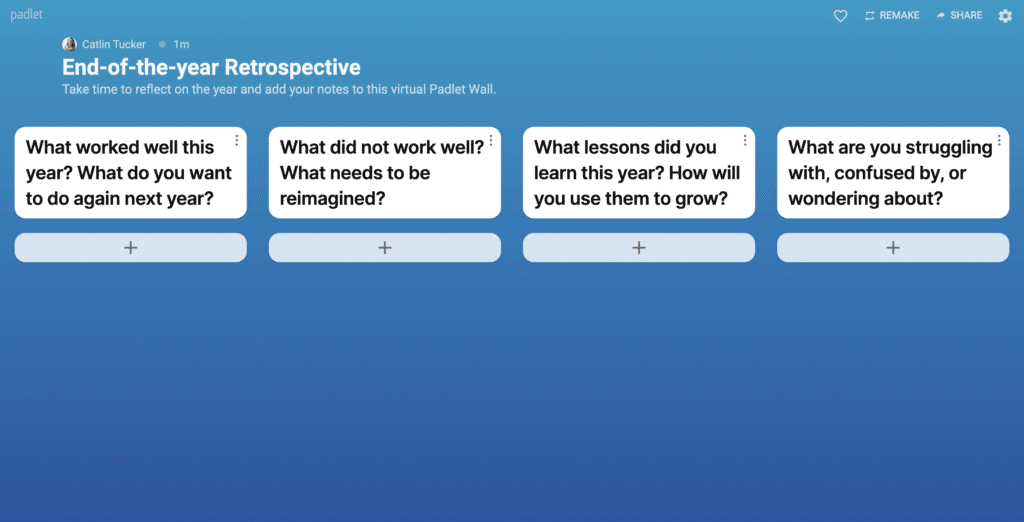 If you prefer Jamboard, I suggest creating a slide for each question to ensure the group's responses to each question are organized and easy to navigate.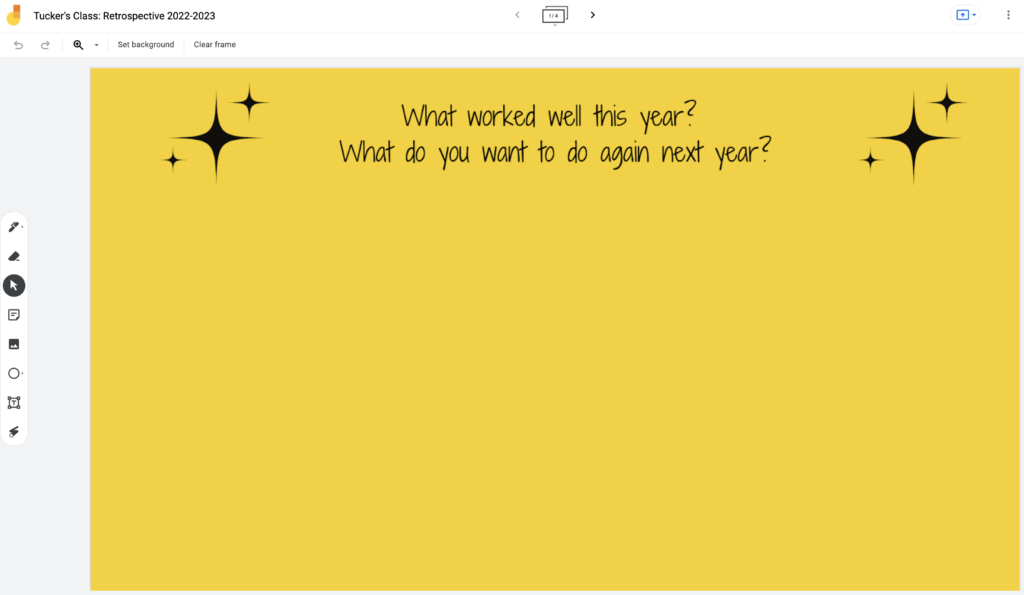 If you prefer to make this a more tactile experience, you can segment a whiteboard into four sections or post each of the four questions in each of the four corners of a room. Then participants can capture their reflections on actual post-it notes and add them to the board or wall.
Once you've decided on the strategy you will use to facilitate your retrospective, you will want to follow the steps below to maximize the effectiveness of this activity.
5 Steps to Facilitate a Retrospective with Your Team
Step 1
Reflect & Post
Review the four questions with your group of teachers or students and give them time to reflect on the year and capture their thoughts on digital or physical post-it notes. Ask the members of your group to post their responses to each question.
Step 2
Silent Gallery Walk
Once everyone has posted their thoughts, give the group time to do a silent gallery walk of the responses to see what other members of the group had to say in response to each question.
Step 3
Review & Cluster
As the facilitator, you will want to identify ideas that were repeated by multiple people to identify trends in the responses and cluster similar responses together.
Step 4
Discuss & Brainstorm
Once you have reviewed the responses with the group and clustered the similar responses, group participants into smaller groups of 3-5 individuals. That way, they can engage in conversation and begin to identify the most important items from the board to create an action plan for next year. Each group should collaborate to identify:
3 things that are working well that the staff or class would like to see continue.
3 things that are not working that need to be reimagined.
3 struggles, questions, or wonderings they want to explore further.
Step 5
Create an Action Plan
Ask each group to spend time discussing and brainstorming solutions they think can help the group reimagine the three things that are not working. Encourage each group to collaborate to come up with creative solutions!
As groups discuss the aspects of their work or their experience that did not go well, encourage them to capture their ideas on an action plan document, like the one pictured below. Ask them to brainstorm ways they think this thing could be reimaged and challenge them to identify what would be needed to make those changes (e.g., resources, a shift in mindset) and how they would measure success as this change is implemented.
The beauty of this final step is that the school leader, coach, or teacher facilitating the retrospective can tap into the collective intelligence of the group to generate ideas for how to improve everyone's experience moving forward. The ideas generated during the retrospective can be captured, saved, and then referenced at the end of summer as school leaders, coaches, and teachers prepare for a new school year!
Calling all coaches!
Join the summer cohort of my blended learning coaching course!
"This was an excellent learning experience for me. As a coach and as a PD leader, I took away many concrete examples that I can use with my staff."
Who is this course for?
Instructional coaches
Teachers on Special Assignment (TOSAs)
Administrators who provide feedback
Teacher leaders and teacher mentors
What can you expect from this course?
Enjoy 10 self-paced online modules! Learn whenever or wherever you want this summer.
Self-pace through video instruction on coaching strategies and blended learning models.
Explore a blended learning coaching framework.
Access strategies, templates, and resources to support implementation.
Submit your model lessons for personalized feedback from Dr. Tucker.
Participate in two 2-hour synchronous sessions facilitated by Dr. Tucker.
Join a Google Classroom where you can participate in online discussions with coaches all over the world!
Earn a certificate of completion.
[ad_2]

Source link